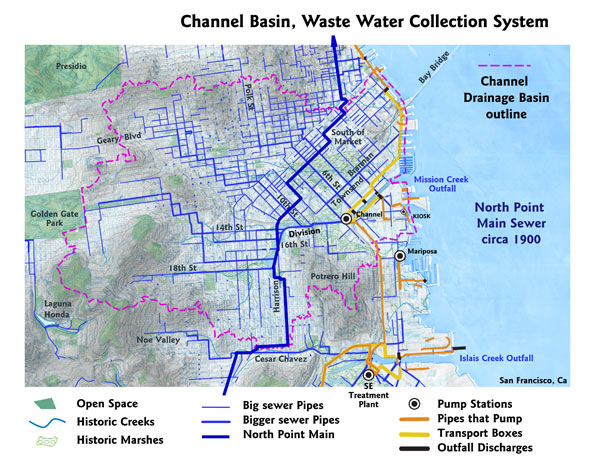 Sustainable Watershed - With the development of a sustainable watershed management plan, storm-water will become more of a resource and less of a waste product for San Francisco. Madrina Group is involved in developing new greening efforts and Low-Impact Design tools that will help divert storm-water from City sewers, with many important environmental and health benefits. We developed the map above to better understand the changes we have gone thorugh and to plan for a smarter use of wate. See a an elevation drawing of the SF Watershed below. Urban Watershed Planning

Seismic Hazard Mitigation - How Prepared Is San Francisco For A Big One?
Liquefaction Zones, Urban Planning. San Francisco's downtown industrial neighborhoods South of Market are almost entirely located within seismic hazard zones, due to the soft soil of the estuary they were built upon. State law requires municipalities to utilize State Hazard Maps in land use planning, yet other political priorities in San Francisco always seem to take precedence. The Madrina Group has been working on new zoning and real estate development incentives to encourage environmental cleanup and seismic safety upgrades of properties in these crucial areas. Geologic Maps that Highlight Bay Area Earthquake Hazards
Link to downloadable Seismic Hazard Maps of San Francisco Bay Area on the USGS site. Historical photos below depict the damage down in the 1906 San Franicsco earthquake and reminds San Farnicsco residents to be prepared for a repeat performance of such magnitude.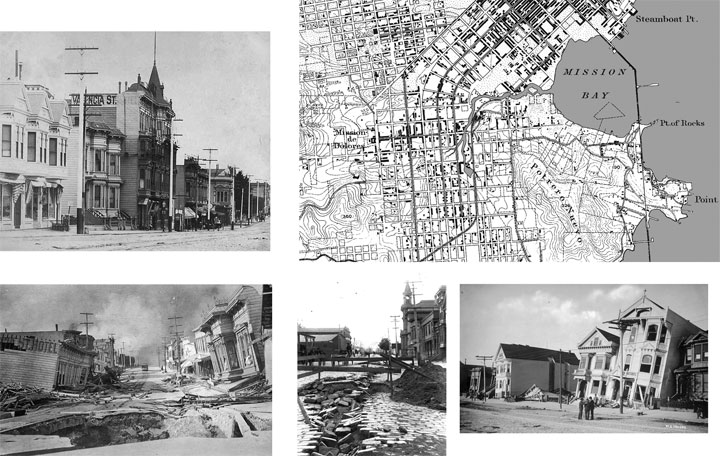 Land Use Planning and Eastern Neighborhoods rezoning - Sweeping land use changes are underway across San Francisco's Eastern Neighborhoods, which for decades were dominated by freight and rail industries and sparsely populated by residents. Homes on Potrero Hill and Hunters Point were isolated from the rest of the City by treacherous hi-ways with truck and train traffic.

In the early 1990s Southern Pacific abandoned their last rail spur right-of-way along Division St when the Best Foods mayonnaise plant closed down at Florida & Mariposa. Theater Artaud productions across the street in the 1980s, had to work around the train schedule which caused considerable screech and rumble during performances!

Historic neighborhoods surrounding the old Mission Bay rail-yards, like SOMA, the North East Mission, Showplace Square and Dogpatch, are where San Francisco's future lies. (blown up area map).

Storage yards, and outdated buildings provide opportunities for infill development, helping the City move toward cleaner and greener businesses at this regional hub.

New zoning is being considered by the Planning Department to extract fees from future development, to fund special programs by the City. Many political factors are in play. There is some concern that these zoning proposals will unreasonably limit needed residential development, and will micro-manage business opportunities beyond what is productive or beneficial.

Transportation Issues - Rail industries will remain along the SF waterfront south of Mission Bay, along the bayshore side of the 3rd Street corridor. The Blue Greenway along the eastern shoreline provides public access to the waterfront, and is a part of a Bay Area regional Bay Trail.

The Mission Creek rail corridor was an important and historic Right-of-Way into the Mission district, and remains full of opportunities to improve the public access through this vital yet congested area.

Environmental Education - We work on initiatives targeted toward San Francisco's historic, industrial neighborhoods South of Market, where new residential and commercial development is replacing rail oriented activities. We support Bike & Pedestrian Improvements, Toxic Soil Remediation, new Open & Green Space, Groundwater and sustainable Waste Water strategies to control flooding and toxic discharges into the Bay.
History of Mission Creek and its forgotten estuary provides insight into the land forms which continue to shape the development of San Francisco, as well as control the vital water systems on the City's east side. Man-made changes to the environment camouflage the natural landscape, but the underlying soft sediments and natural drainage patterns remain key to our planning and redevelopment efforts.
Public Art as Education can be especially important in urban centers like San Francisco where many recent immigrants have poor to little environmental training. The Avenida del Rio project is a series of "art markers" along the Mission Creek corridor, depicting aspects of the river and estuary that was once beneath our feet, in the hopes that with greater understanding, people will become better stewards of our shared environment.
Affordable Housing
, The previously industrial areas on the City's east side, have long been targeted for needed new housing, yet the best way to weave new housing into commercial areas has been controversial for many years. Adaptive reuse of sound commercial structures was behind the development strategy of Live/Work units, which co-mingled commercial and residential activities, was the original focus of the founding members of the Madrina Group. Recycled building materials is another favorite.
Live/Work Ordinance 1988 - 2002
Project Artaud
, pioneering art cooperative
Links to some of our partners sites are on the

Contacts

page