The Madrina Group is a charitable 501(c)3 organization, working to make San Francisco's historic, industrial neighborhoods more healthy and livable through environmental education and urban planning initiatives.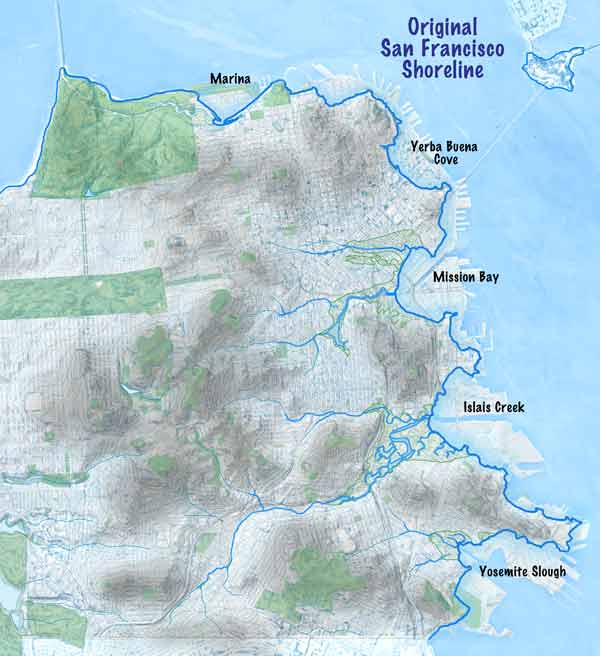 "This map was produced by Judy West for the San Francisco Bay Shoreline Guide
a publication by the SF Bay Trail http://baytrail.abag.ca.gov/
Using art to help people understand the environment
The Mission Bay Waterfront Kiosk Project is a series of posters and maps that examines the natural and geographic history of San Francisco. Located in Mission Bay, the eight panel exhibit is focused on natural features that shaped the transportation and watershed networks, including the Mission Creek Corridor, SF Bay Trail and Blue Greenway. Special thanks to the Port of SF, the SF Bay Trail, SF Beautiful and the Neighborhood Parks Council for making this educational exhibit a reality!

The Kiosk Watershed panel illustrates the natural drainage basins and waste water collection system of San Francisco, with emphasis on new Low-Impact "green" Design technologies to improve storm water management. (download large detailed SFPUC pdf)

Mission Creek Bikeway is a rails-to-trails transportation initiative, which aims to transform the historic rail corridor built along a once navigable waterway, into a safe and landscaped greenway for the changing post-industrial neighborhoods south of Market Street.

Avenida del Rio is an ongoing public art and education program along the historic Mission Creek Corridor.

Mission Creek Mosaic Mural is the first in a series of public murals along the historic Mission Creek right-of-way, is located at the site of a forgotten 1860s bridge over Mission Creek which is depicted in the mural. The mosaic design and fabrication was by Lillian Sizemore and Laural True in 1999, funded by the Potrero Nuevo Fund, administered by New Langton Arts.

Bay View Boat Club Aquatic Mural is located at the public boat launch in Mission Bay and was produced by members of the boat club under the direction of principal artists Judy West and Vanessa Workman.

CROSSROADS – a newsletter about the evolving, mixed-use neighborhoods of South of Market, the NE Mission and lower Potrero Hill.